What is seed cycling?
Seed cycling is a holistic practice that has been around for a long time & recently has become quite popular.
It supports regulation of reproductive hormones. When hormones are out of balance they can contribute to PMS symptoms, hormonal acne, weight gain, fatigue, fertility issues as well as amenorrhea (absent period).
What is happening?
The follicular phase starts on the first day of menstruation (day 1) and ends with ovulation (day 14-20)
After the first few days of menstruation you may start to feel increased energy levels & brain clarity. The follicular phase is the phase of the menstrual cycle during which follicles in the ovary mature. The main hormone involved in this stage is estradiol.
I have included a great link to those who love science and understanding in depth:
(https://courses.lumenlearning.com/boundless-ap/chapter/physiology-of-the-female-reproductive-system/)
To put into simple terms – the follicular phase involves increased estrogen levels.
Both pumpkin seeds & flax seeds naturally support the balance of estrogen production with lignans and zinc. Pumpkin seeds are high in zinc which is an important mineral for progesterone production and flax seeds contain lignans which may help bind excess estrogen, promoting progesterone/estrogen balance. These seeds also prepare the body for progesterone secretion.
The Luteal Phase is from ovulation to the first day of your period.
The luteal phase is the latter phase of the menstrual cycle or the earlier phase of the estrous cycle. It begins with the formation of the corpus luteum and ends in either pregnancy or luteolysis. To understand in depth, follow the link above.
Basically the luteal phase involves increased progesterone and decreased estrogen production.
Sesame seeds & sunflower seeds have selenium, healthy fats & lignans to block estrogen while supporting progesterone production. Sesame seeds are a rich source of zinc which and sunflower seeds have vitamin E, both which can support progesterone production.
Incorporating these seeds can support balancing of estrogen and progesterone, which in turn creates more mental and physical stability.
Who may need it?
If you are experiencing PMS symptoms, hormonal acne, weight gain, fatigue, fertility issues, amenorrhea, or mood swings, anxiety, depression, irritability, seed cycling is a natural way to support your goals on finding more balance.
Tips for seed cycling: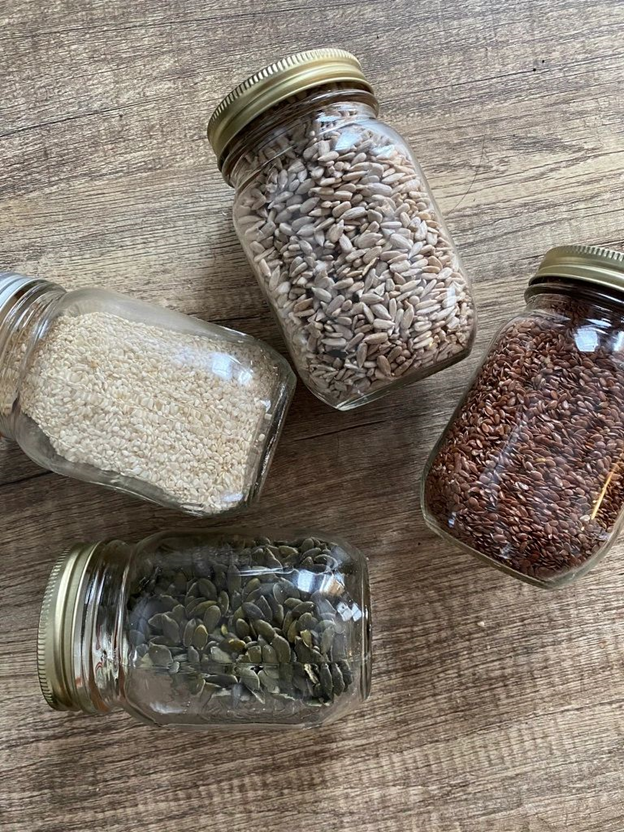 Remember:
Freshly ground – seeds once ground can oxidize within 15 minutes so keep them in the fridge!Ground seeds contain lignans which bind to excess estrogen.
Raw- to benefit optimally from the nutrients within the seeds.
Organic when possible, as pesticides can interfere with female hormone production leading to reproductive issues. https://www.ncbi.nlm.nih.gov/pmc/articles/PMC1524969/
Make them into energy balls, add to avocado toast, smoothies, salads. Check out Minimalist Baker's seed cycling mixes. (https://minimalistbaker.com/seed-cycling-mixes-recipes/)
Use an app! I use a free version of Flo, which I log when I get my period, symptoms associated as well as when it ends. This app helps to track not only my cycle, but also when I am expected to be most fertile (the days leading up to and during ovulation). This isn't just for someone trying to get pregnant. I love using it to understand the different sensations in my body, which can also help me know when something is out of balance. Not everyone's cycle is 28 days, so using an app can help you determine when you are no longer in the follicular phase, and when you should be starting the luteal phase of seed cycling.
IDEALLY: 1 Tablespoon of each of the two ground seeds daily
Unless you have an allergy or intolerance to seeds or dysbiosis in the gastrointestinal system, there is little harm in trying to incorporate seed cycling into your daily routine. If anything, all the minerals, nutrients & extra healthy fats will be beneficial for you.
If you are dealing with unmanageable symptoms of what could be hormonal imbalance, remember that seed cycling is only one small piece of the puzzle. Through a thorough initial consultation we can get to the root cause of your main health concern, and create a meal plan and nutritional recommendation specific to your symptoms. Please don't hesitate to reach out to see if what your experiencing is something we can work together to balance, so you can get back to living on your time and terms.
If you start seed cycling and notice discomfort, this could be a sign of other imbalances and another reason to reach out so we can work together to help you understand your body and what it needs.
Would love to hear your experiences of seed cycling or your favourite way to incorporate it, in the comments!